This article has links to products and services we love, which we may make commission from.
From burlesque to fancy dress, politics to freaky tricks, laughs to an upside-down full-grown purple calf. What do all of these mean combined? It's the Edinburgh Festival Fringe time! Here is your Edinburgh Festival Fringe Guide.
For three weeks in August (02 – 26 August 2024), you have never seen Scotland's capital so alive. It is the ultimate time of year to visit Edinburgh. Come rain or shine * insert joke about Scotland's weather here* you are guaranteed to laugh, cry, cringe and gasp and that's just over your hangover, thanks to Edinburgh City Council's extended drinking hours! But jokes and rhymes aside, I'm excited to share my years of experience and teach you how to do the Edinburgh Fringe, like a local, in this quick guide.
Show registration for Fringe 2024 will open around 5th May. Tickets go on sale for audiences in early summer.
Planning to stay in Edinburgh? Here's our guide to Fringe accommodation options.
You may also like our guide – things to do in Edinburgh's Old Town.
Note to acts and agents: we cannot offer free marketing. If you would like to support a local business (us!) and advertise on this guide, please contact us.
Edinburgh Festival Fringe Guide 2024
We will update this as acts are announced.
For now, please check out the previous years suggetsions.
2023 Fringe Events
Alan Turing A Musical Biography
Austentatious: An Improvised Jane Austen Novel
Christopher Hall: Self Help
David O'Doherty: Tiny Piano Man
Gary: Tank Commander – Gary Talks (Yous Listen)
Hello Kitty Must Die
Legally Blonde
No More Love Songs
Paul Black: Nostalgia
Tatty Macleod: Fugue
The Briefing with Melissa McGlensey
2022 Fringe Events
Share your previous show recommendations in the comments below!
Unfortunate: The Untold Story of Ursula the Sea Witch
Sunshine on Leith
Paul Black: Self-Care Era
Flight
Symphonic Ibiza
We've also included our 2021 and 2019 Fringe recommendations at the end of this guide.
Planning Your Fringe Visit
What do you want to see?! Comedy, plays, musicals, puppet shows, live radio, cabaret, a single girl telling you how bad her life is through Beyoncé songs?
With over 3000 acts, Edfringe has it all! A good starting point is the Edinburgh Festival Fringe. The official site has an extensive catalogue of events.
For the latest updates, follow Edfringe on Twitter.
Remember to add #EdFringe if you want to share.
You can also download the Edinburgh Fringe app to help you plan your calendar. On the app, you can research events by date and time and purchase tickets.
There is also an Edinburgh Festival Fringe programme brochure which is published around June and found in shops in the city
Most of the Scottish newspapers will provide Edinburgh Festival Fringe reviews and suggest the best shows to see this summer.
Finally, just check out the walls. No space is safe during the Edinburg Fringe! PRs selling shows will greet you (whether you like it or not) on the Royal Mile as you attempt to battle your way through the crowds. The amount of waste during the Fringe really does get me down.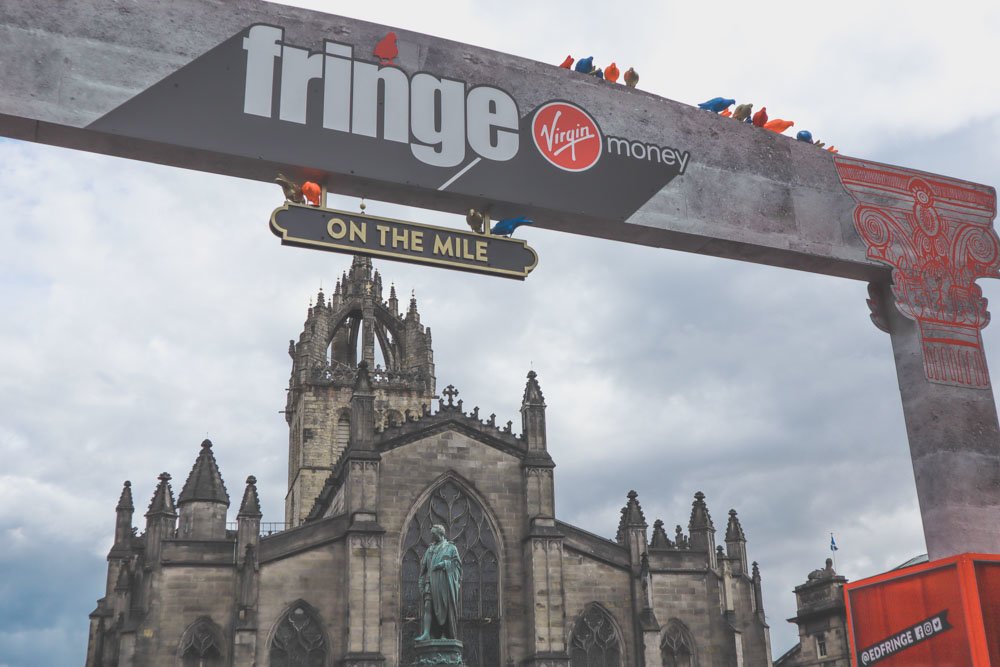 So it's all on One Cobbled Street, Right?
Wrong! The Fringe is actually pretty spread out and boasts of nearly 300 venues so you need to know your Pleasance from your Udderbelly!

Edinburgh Fringe Venues
1. George Street – Plush Shops and Upmarket Clubs
Amongst other venues you will find the Assembly Rooms (54 George St, Assembly has many venues, most around George Square).
This is where I saw Christian Slater in his boxer shorts during One Flew Over the Cuckoo's Nest.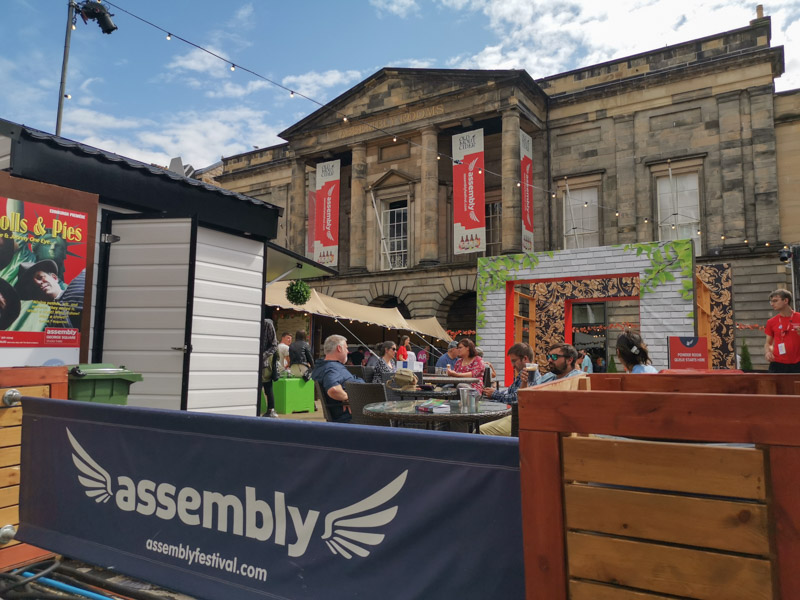 2. St Andrews Square
Al fresco shows and plenty of space for picnics is available at St Andrews Square.
In previous years, the Stand Comedy Club acts have taken over a giant 140 capacity yurt here too.
This is also where Film Fest In The City takes place.
3. The Mound – That Big Hill Near The Castle
Assembly Halls, yes another, don't mix these up.
I endured Jim Jeffries cutting set here – don't go with your Mum!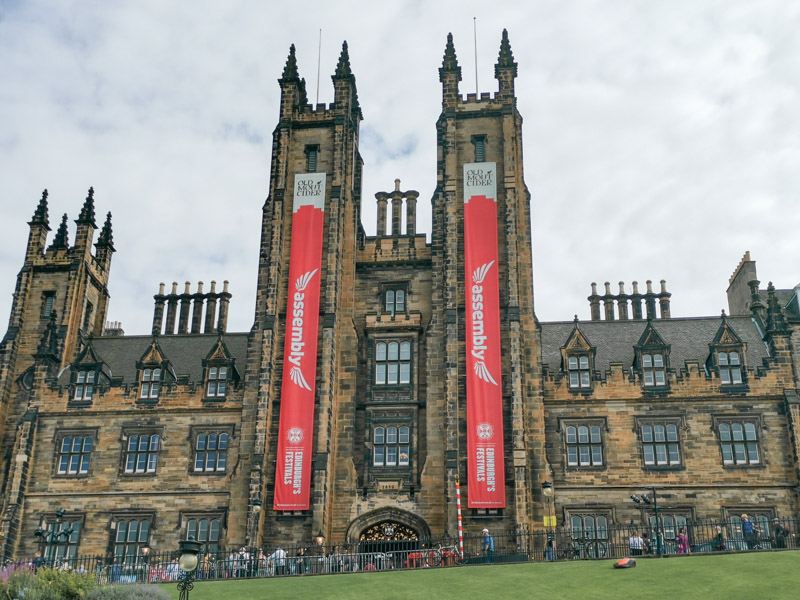 This is also home to the popular Instagram spot as it looks quite Harry Potter-ish.
4. The Royal Mile – The Street You See on the Telly
Just under a mile of free shows and acts!
The Royal Mile is a good starting point to help get your Fringe bearings.
5. The Grassmarket and Cowgate – Touristy Pubs
Every nook and cranny of Edinburgh's Grassmarket is consumed by the Fringe which leads on to Victoria Street, the pretty street said to have inspired Harry Potter's Diagon Alley.
The Grassmarket is very close to the Cowgate which has lots of pubs which host shows, some are underground!
Check out our guide to the South Bridge Vaults Tour if this interests you.
6. George Square Gardens – Assembly Takeover!
One of my favourite areas to grab a drink and a bite to eat.
The Spiegeltent is probably the most gorgeous pop-up venue known.
Were you lucky enough to catch Cruel Intentions The Musical here?
7. BBC – The National News Channel
The BBC sets up shop for the whole of Fringe offering shows, talks and reviews.
Previous locations include close to the Pleasance and George Heriot's School, EH3 9EQ.
8. Udderbelly – Giant Purple Cow
Udderbelly who brings you the Udderbelly (confusing) is one of the largest companies hosting shows at the Festival Fringe.
Udderbelly venues can be found at George Square, Circus Hub on The Meadows, Udderbelly Bistro Square and the original Cowgate site.
9. The Pleasance – Pretty and Relaxed Area
I've seen quite a few small cringe-worthy shows here but also some extremely funny ones.
There are bars at every venue, naturally, it is Scotland after all.
Cheap Seats for Edinburgh's Fringe
Those on a budget can still enjoy the Fringe. Here are a couple of options for cheap Edinburgh Festival Fringe tickets
Take a stroll down the Royal Mile and watch the free performers or see snippets of shows which aim to advertise
There are hundreds of Edinburgh Festival Fringe free shows dotted around the city. Just hit 'filtered results', select 'special pricing' option then select 'free' here. It is expected that you pay the show's worth at the end of the performance
Arrive at the start of the programme to enjoy the 2-4-1 cheap seats as the acts warm up
Work in Edinburgh! There are a variety of Edinburgh Festival Fringe jobs
Don't Plan for The Fringe
It is suggested that some people take a bottle of contraband to the Fringe and soak up the atmosphere.
Let's face it, you can't plan for every day when you follow the Fringe Junky philosophy of wake up – Fringe – sleep – wake up – Fringe – sleep and repeat.
Some of the best shows I've seen, such as Baby Wants Candy, were watched on a whim.
Plonk yourself down and celeb spot! A
couple of years ago I was stoked to meet the Scottish comedian Danny Bhoy but that was knocked off the top spot after spotting The Big Yin himself, Billy Connelly, sauntering past with his hair bouncing behind him.
Check out this 90-second video on Edinburgh Festivals.
---
2021 Fringe Events
44 Scotland Street walking tour
1902 theatre at Leith Arches
Police Cops Badass By Name at Assembly George Square
2019 Fringe Recommendations
Cruel Intentions, The 90s Musical – best show I've seen at the Fringe. Ever
Ashley Storrie – The comedian from the Scottish Harry Potter viral video fame. Crude language alert
Janey Godley – Ashely's maw. Does the political voiceover videos and stood with a 'Trump is a c***' sign when he visited his hotel
Silent Adventures Disco Tour – I've done this twice. Tickets booked for this year already
Showhawk Duo – Managed to catch their free show on the Royal Mile last year
Baby Wants Candy – Improv show recommended by me too, seen it three times
Game of Thrones Musical – brilliant, will need to go to see their ending
Our social media followers recommend:
Stuart McPherson – Stand up
Reginald D. Hunter – Comedian – we saw him in Aberdeen
Ivy Paige – Singer
Adam Rowe – Comedian. Joke of the year 2018
Foil, Arms and Hog – So many recommendations
Eddie Izzard – Expectations of Great Expectations
The Magnets – Naked 90s, a cappella, 90s, 'nuf said
Danny Macaskill – Famous Scottish cyclist's Drop and Roll Live Show
Ray Bradshaw – Deaf comedy Fam. Watched a YouTube video, hilarious
→ What do you recommend?
Did you know that the Fringe is not the only Edinburgh festival in August?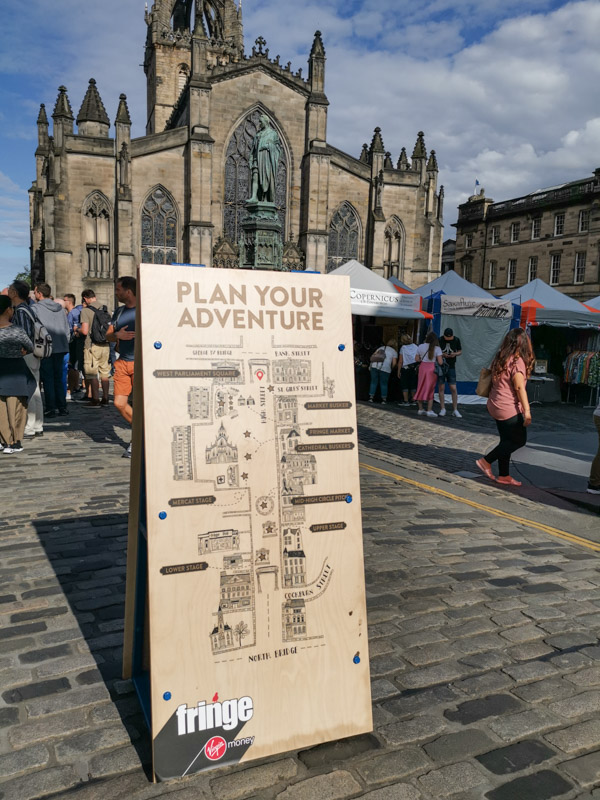 Edinburgh Accommodation
Edinburgh Fringe Festival accommodation is expensive and in high demand.
We've created a guide on the best places to stay in Edinburgh so read that before booking.
Hotels in Edinburgh during the Edinburgh Festival start at approx. £95 and reach the highs of £550 per night
Hostels are cheaper at £18 – £50 for a dorm bed (there is often a minimum stay)
An alternative option is to search Edinburgh Festival Fringe University Accommodation by clicking here
Frequently Asked Questions
1. Edinburgh Fringe dates?
Edinburgh Festival Fringe 2024 takes place from 02 – 26 August 2024.
2. Can I avoid staying in Edinburgh?
Yes, and many locals actually do the same!
Check out the commuter towns of Dunfermline and Inverkeithing in Fife, the seaside town of North Berwick and even Leith just outside of the city centre.
3. How busy does the Fringe get?
We're talking Rome's Vatican in July or Iceland's Golden Circle June-August.
The Old Town is jumping during the Fringe. Some love it, others hate it.
Any shows you really want to see are best booked in advance.
Expect to wait in line for free shows, especially at the weekend.
4. Is there a Fringe App?
Yes!
This will help immensely with your planning too so well worth a download.
5. Where is the Edinburgh Fringe Box Office?
The official box office is at 180 High Street.
However, different venues have their own box offices too. These are found at the venue location.
There are also a variety of pop-up box offices too around the city.
Closing Points
So to conclude this guide on the Edinburgh Festival Fringe – plan or don't plan but take a brolly!
One of the highlights of the three weeks, for me, is the Edinburgh Festival Fringe comedy shows.
I always enjoy reading the Edinburgh Festival Fringe best jokes (voted by Dave, TV channel) once the Festival closes – 2023's #1 is…
"I started dating a zookeeper – but it turned out he was a cheetah." by Lorna Rose Treen
If you really enjoyed your time at the Fringe, why not return for our Edinburgh International Book Festival.
I had the privilege of listening to Malala Yousafzai speak about her new book at this book festival.
Or, look out for the Connect Festival line up for a weekend of bands and DJs at Ingliston near Edinburgh Airport.
And don't forget to check out the best bars in the Old Town.
What tips do you have to make The Fringe the best year yet?
You May Also Like